GET READY!!!
Your blog is sponsored by Pierson Ford in Aberdeen.  I want to tell you that we have a tremendous selection of recent trade-ins.  Including this beauty.
It's a 2014 Ford Edge SEL. Just under 40,000 miles on it.  All wheel drive, heated leather seats, rear camera, power lift gate.  This car is ready to go home with you.  Priced at only $22,962.  You can see the number on the ad.  Call us if you are interested. And check out our entire selection at http://www.piersonford.com/
1.  LET'S HAVE A GOOD LAUGH!!
If my calculations are correct, I think this guy's right!!
Yet another reason why I don't have cats.
In today's world you have to be fair.  One for the cats, now one for the dogs.
This one cracked me up BIG TIME!
And finally.
2.  OK.  I have my big announcement.  After 25-30 years of dreaming about doing this, it has FINALLY come true.  Ladies and gentlemen.  I present my brand new venture.
Country Legends Jukebox is a two hour show featuring all of the greatest songs of country music history from the 50's, 60's, 70's, and some 80's.  The exciting thing for me is that it is going to be playing so far on stations in Aberdeen, SD, Carrington and Oakes, ND, plus Sioux Center, Iowa, which goes cleanly into the Sioux Falls, SD market.  
My goal is to have this program on at least 15-20 radio stations during the first year!  I plan on marketing this show all across the country if possible. 
We will also be doing t-shirts eventually.  Here are the t-shirt designs.  By the way, they will be on a black t-shirt.
That's the front of the shirt, and this will be the back.
I have never been so excited about a venture.  I will let you know when the website is up.  We are thinking maybe in late April.  Hopefully.
If you have a business with deep pockets that wants to advertise in a whole bunch of spots, message me and we'll talk.
3.  Speaking of country music, my Christmas gift from my wife and kids two years ago was tickets to see one of my favorites, Alan Jackson, in Brookings, SD.  I was excited because this was his "greatest hits" tour.  Well, long story even longer, he had to postpone the date.  So they set another date, and he postponed that one as well.  Then, they just cancelled the event and gave us our money back.  I was torked.
So, lo and behold……
NOOOOOOO….NOT FALLING FOR IT AGAIN!!!
Actually, I have to perform a wedding that night, and also my wife and I have tickets to see Bruno Mars that weekend.  But would I go if I could?  I don't know.  I just don't trust Alan Jackson to actually be there.
4.  I have always wondered about this.
Pizza is my favorite food.  Whenever I go into a city I've never been to, I try to find a pizza place that I have never eaten at so that I can try something new.  I worked at Pizza Hut for about three years after high school.  We got to take a small pizza home for every 4 hours that we worked each day.  Obviously, I was full time, so I ate pizza EVERY SINGLE DAY. 
Which begs the question.  What would be my favorite pizza?  I will tell you.
For cooking at home it has to be Papa Murphy's.  I love their sauce.
For eating inside or take out, I will take the pan pizza supreme from Pizza Hut, with ANYTHING from Old Chicago coming in at a close second. 
With pizza I'm not very fussy.  Until the other day when we ordered a pizza with everything from a local Italian place.  We waited for it to get here and then….IT HAD SARDINES ON IT.  FISH…YUCK…Anchovies is what I believe they call them.  I learned a valuable lesson that day.  ALWAYS ask what "everything" is when ordering a pizza!!!
5.  The NCAA tournament is on, and by the time you read this my teams may be out.  HA HA…Who am I hoping wins?
My son Tyler dates a beautiful girl named Carly, and as you may remember from a previous post, she works for the Kansas Jayhawks.  So, I'm a Jayhawk from now until the tourney is on. 
However, other than my Tennessee Volunteers, I only cheer for one other team in the men's NCAA tournament. 
Today they defeated our South Dakota team, South Dakota State University Jackrabbits.  Now, it's Kansas and Gonzaga to cheer for.  May the best team win.  (Just not Kentucky.)
6.  And now, my new team logo for the Washington Redskins.

http://%%20static%20'js/site/third_party/selectivizr-min.js'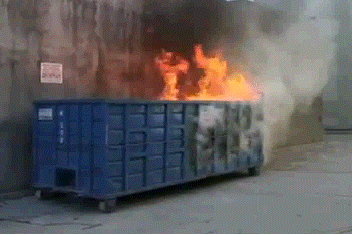 That's right, team is a DUMPSTER FIRE.
This actually makes me sick.  We were a half game out of the playoffs this year and lost four of the last six games of the season.  Obviously we were playoff capable.  And then, our brainiacs DON'T sign Kirk Cousins to a long term deal, and they DO release players like Desean Jackson, Pierre Garcon, Chris Baker, and others.  Yep, our number ONE and number TWO receivers weren't signed again.  THEN, they FIRE our general manager over some kind of supposed "power struggle."  It's one piece of drama after another with this team.  Rumors have it that Kirk Cousins wants out, and frankly I cannot blame him.  Although I would be crushed if he left.
This year marks the 45th year of me being a Redskins fan.  I'm not a fair weather fan.  I have been with them thru the Super Bowls and 0-8 starts.  I have seen players come and go.  But this offseason has me really really thinking.  And my thoughts aren't good.
7.  Sound familiar?
I think that social media is going to be the downfall of our country.  Cell phones, Twitter, Facebook, Instagram, they are all going to ruin us.  Nobody has a face to face conversation anymore.  It's so easy to blast people and defame their name on social media.  WITH NO CONSEQUENCES.  Peoples relationships, careers, and LIVES are being ruined by people hiding behind a fake name on social media.  It makes me sick.  I hope to God that things turn around and go back the other way, but I'm afraid we are too too too too too too late.
8.  HOW ABOUT A GOOD LAUGH!!!